Check out the information below for a delicious meal that you can make at home.
Heart-shaped pancakes with maple blackberry syrup
Phe (mg):87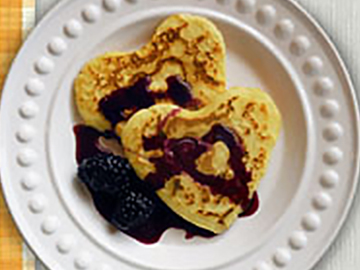 Nutrition Information
Serving Size: 2 (4-inch) pancakes
Calories (kcal): 333.5
Protein (g): 1.8
Exchanges: 1.8
Fat (g): 12
---
Ingredients
The pancakes
480 g of all-purpose white flour
30 g of cornstarch
½ tsp of baking powder
½ tsp of salt
1 tablespoon of oil
6 to 8 tablespoons of water
2 more tsps of oil to cook the pancake
The syrup
25 g of blackberries
1 tsp of vanilla extract
4 tbsp of maple syrup
Instructions
Puree the blackberries, vanilla extract and maple syrup. Transfer this to a small pot and gently simmer it over medium-low heat for about 3 minutes once it starts simmering.
Combine the flour, cornstarch, baking powder and salt. Add the oil and water until you have a pancake batter.
Lightly oil a pan and bring it to medium heat.
Lightly oil a heart-shaped cookie cutter.
Place the cookie cutter on the pan and pour ¼ of the batter into the cookie cutter. Cook this for 2 minutes, then lift up the cookie cutter and remove it.
Flip the pancake and cook for 1 more minute. Repeat until you have used up all the batter.
If you want to skip the cookie cutter and just make a round pancake, pour the batter directly into the pan, give it a quick tilt all the way around, cook the pancake for 2 minutes, then flip it and cook it for 1 more minute.
Top with the syrup.
Nutritional information, including Phe counts, are estimated using the Metabolic Pro database created and maintained by Genetic Metabolic Dietitians International (GMDI).
Always consult your dietitian before making changes to your diet.