Check out the information below for a delicious meal that you can make at home.
Herbed dinner rolls
Phe (mg):25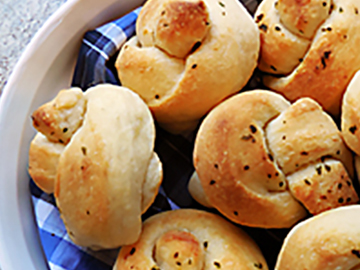 Nutrition Information
Serving Size: 1 roll (recipe makes 8)
Calories (kcal): 158.6
Protein (g): 0.6
Exchanges: 0.6
Fat (g): 6.7
---
Ingredients
Low-protein pizza dough
2 tbsp melted butter
½ tsp garlic powder
½ tsp kosher salt
¼ tsp black pepper
1 tbsp fresh chopped herbs (such as thyme, rosemary, sage)
Instructions
Preheat oven to 220°C
Roll the dough into a rectangle that's 5 inches wide and 8 inches long. Then cut into 8 sticks that are 5 inches long.
Stretch the piece of dough and tie into a knot.
Place each knot into a muffin tin.
Combine butter, herbs, and spices.
Brush on each roll.
Bake until lightly browned, about 9–10 minutes.
Nutritional information, including Phe counts, are estimated using the Metabolic Pro database created and maintained by Genetic Metabolic Dietitians International (GMDI).
Always consult your dietitian before making changes to your diet.