Check out the information below for a delicious meal that you can make at home.
Low-protein stuffing
Phe (mg):42.8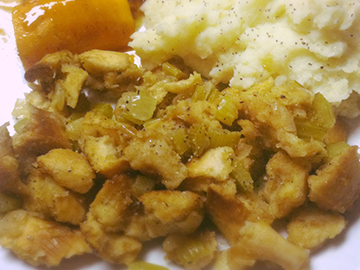 Nutrition Information
Serving Size: ¼ recipe
Calories (kcal): 297
Protein (g): 1.3
Exchanges: 1.3
Fat (g): 11.8
---
Ingredients
2 loaves of low-protein bread rolls
140 g chopped onion
200 g chopped celery
3 tbsp butter
186 g of vegetable broth
1 ½ tsp of poultry seasoning
Instructions
Slice the rolls with a bread knife into one-inch thick slices.
Place on a baking sheet and grill for 2 minutes.
Flip slices of bread and grill for another 2 minutes.
Remove toasted bread from the oven and place in a large mixing bowl to cool.
Meantime, melt the butter in a medium pan over medium-high heat.
Add onion and celery, cook until onion is clear and celery is al dente.
Remove from heat and allow to cool.
Once sliced bread has cooled, use hands to tear and break into small bite-sized pieces.
Sprinkle with poultry seasoning and toss until coated.
Scrape the sautéed vegetable mixture onto seasoned bread and mix.
Drizzle vegetable broth onto bread and vegetables until evenly coated; pausing the pour to toss the bread as needed.
Transfer stuffing to a casserole dish, cover and bake at 180 °C for 30 minutes.
Nutritional information, including Phe counts, are estimated using the Metabolic Pro database created and maintained by Genetic Metabolic Dietitians International (GMDI).
Always consult your dietitian before making changes to your diet.