Check out the information below for a delicious meal that you can make at home.
Mean green burgers
Phe (mg):39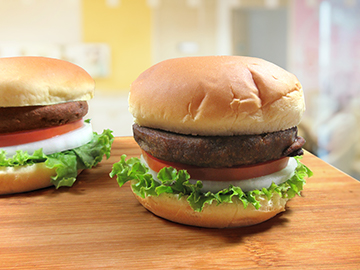 Nutrition Information
Serving Size: 1 burger (recipe makes 6 total)
Calories (kcal): 318.5
Protein (g): 1.3
Exchanges: 1.3
Fat (g): 3
---
Ingredients
75 g shredded broccoli
1 tbsp diced green chile
1 small onion, chopped
25 g low-protein bread crumbs dried and finely ground
¼ tsp garlic salt
1 tbsp ketchup
½ tbsp Worcestershire sauce
1 tbsp vegan chicken broth
6 low-protein hamburger buns
3 tbsp onion powder *Optional
1 tbsp black pepper *Optional
Instructions
Combine all in food processor into a dough
Add more crumbs if mixture is wet.
Shape into patties. Lay flat on parchment paper.
Cook over medium high heat with vegetable oil.
Nutritional information, including Phe counts, are estimated using the Metabolic Pro database created and maintained by Genetic Metabolic Dietitians International (GMDI).
Always consult your dietitian before making changes to your diet.