Check out the information below for a delicious meal that you can make at home.
Simple Greek sauce
Phe (mg):34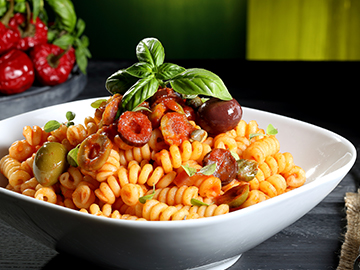 Nutrition Information
Serving Size: 125 ml sauce (recipe makes 250 ml)
Calories (kcal): 95.3
Protein (g): 1.0
Exchanges: 1.0
Fat (g): 8.7
---
Ingredients
2 tbsp olive oil
50 g Kalamata (Greek) olives
2 tbsp oregano
400 g diced fresh tomatoes (about 4 medium tomatoes)
2 tbsp lemon zest
salt and pepper to taste
Instructions
Preheat a medium pan over medium-high heat.
When hot add oil, olives and oregano. Stir constantly for 1 minute.
Add all remaining ingredients. Continue to cook over medium-high heat until the sauce comes to a boil. Stir every few minutes.
When the sauce comes to a boil reduce to heat to low. Cook uncovered for 8–10 minutes.
Season to taste with salt and pepper
Notes: This is enough sauce to toss with 900 g of cooked low-protein pasta or low-protein rice. The sauce will keep in the refrigerator for two days and can also be frozen.
Nutritional information, including Phe counts, are estimated using the Metabolic Pro database created and maintained by Genetic Metabolic Dietitians International (GMDI).
Always consult your dietitian before making changes to your diet.