Check out the information below for a delicious meal that you can make at home.
Spring strawberry spinach salad
Phe (mg):67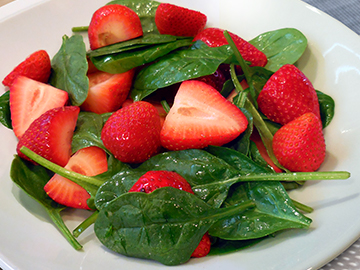 Nutrition Information
Serving Size: ¼ recipe
Calories (kcal): 158
Protein (g): 1.6
Exchanges: 1.6
Fat (g): 57.2
---
Ingredients
1 bag spinach, prewashed
12 large strawberries, washed and sliced
100 g sugar
1 tsp salt
250 ml white wine vinegar
250 ml vegetable oil
1 tbsp poppy seeds
Instructions
In a large bowl, mix the spinach and strawberries
In a blender, place sugar, salt, vinegar and oil.
Blend until smooth.
Stir in poppy seeds.
Pour over spinach and strawberries and toss to coat.
Nutritional information, including Phe counts, are estimated using the Metabolic Pro database created and maintained by Genetic Metabolic Dietitians International (GMDI).
Always consult your dietitian before making changes to your diet.