Check out the information below for a delicious meal that you can make at home.
Strawberries and cream slushy
Phe (mg):26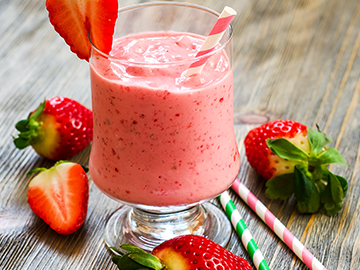 Nutrition Information
Serving Size: 225ml
Calories (kcal): 80.8
Protein (g): 0.7
Exchanges: 0.7
Fat (g): 0.8
---
Ingredients
500 g of fresh strawberries, stems removed
15 cubes of ice
100 g of agave syrup
125 ml of almond milk
Instructions
Puree the strawberries, ice, and agave syrup. Pour this into a cup.
Pour the almond milk on top, lightly stir the slushy.
Serve immediately.
Nutritional information, including Phe counts, are estimated using the Metabolic Pro database created and maintained by Genetic Metabolic Dietitians International (GMDI).
Always consult your dietitian before making changes to your diet.