Check out the information below for a delicious meal that you can make at home.
Dessert pizza
Phe (mg):26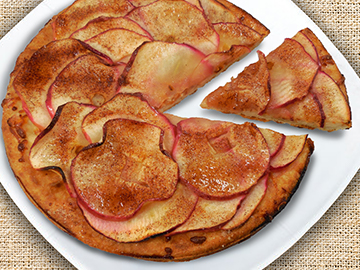 Nutrition Information
Serving Size: 1 slice (6 slices per pizza)
Calories (kcal): 218.3
Protein (g): 0.6
Exchanges: 0.6
Fat (g): 6.7
---
Ingredients
Low-protein pizza dough
2 tbsp butter, melted
32 g granulated sugar
¼ tsp ground cinnamon
1 large apple, peeled, cored, and sliced as thin as possible.
Instructions
Place a pizza stone on the lowest rack of the oven.
Preheat oven to 220°C
Roll dough for 1 pizza into a 12-inch circle (I like to put the dough on a piece of parchment and then on a cutting board or pizza peel before adding sauce and toppings).
Brush the dough with the melted butter.
Combine sugar and cinnamon and sprinkle half on the buttered crust.
Arrange the apple slices on top, and then sprinkle with remaining cinnamon and sugar.
Slide pizza and parchment onto the hot stone and bake for 10–15 minutes (time will vary depending on how thin/thick your dough is and the quantity of sauce and toppings you use.)
Nutritional information, including Phe counts, are estimated using the Metabolic Pro database created and maintained by Genetic Metabolic Dietitians International (GMDI).
Always consult your dietitian before making changes to your diet.