Check out the information below for a delicious meal that you can make at home.
PKU caesar salad
Phe (mg):56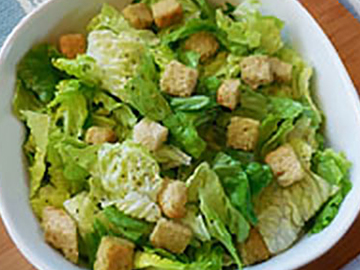 Nutrition Information
Serving Size: 150 g (recipe serves 4)
Calories (kcal): 201
Protein (g): 1.1
Exchanges: 1.1
Fat (g): 14.6
---
Ingredients
2 tbsp lemon juice
1 tsp minced garlic
½ tsp minced garlic
¼ tsp Dijon mustard
Salt and pepper
4 tbsp olive oil, divided
1 cup low-pro croutons (made from ~2 slices CamBrooke home-style bread, cut into small cubes)
½ head romaine lettuce, torn
Instructions
Combine lemon juice, garlic and Dijon; season with salt and pepper.
Drizzle in 3 tbsp. olive oil, whisking to combine.
Sauté bread and garlic in 1 tbsp. olive oil in a frying pan over medium heat until bread is crisp and browned. Season bread with salt and pepper.
Toss together romaine, dressing and croutons.
Nutritional information, including Phe counts, are estimated using the Metabolic Pro database created and maintained by Genetic Metabolic Dietitians International (GMDI).
Always consult your dietitian before making changes to your diet.