Check out the information below for a delicious meal that you can make at home.
Spring asparagus and potato salad
Phe (mg):120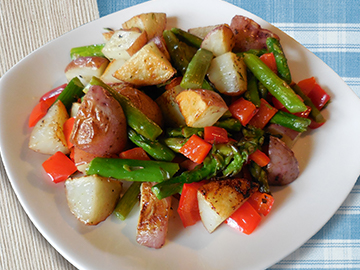 Nutrition Information
Serving Size: ⅛ recipe (entire recipe serves 8)
Calories (kcal): 139.4
Protein (g): 3.2
Exchanges: 3.2
Fat (g): 7.0
---
Ingredients
600 g red potatoes, cut into chunks
4 tbsp extra virgin olive oil
4 cloves of garlic, minced
4 tsp dried rosemary
4 tsp dried thyme
2 tsp salt
450 g fresh asparagus, trimmed, and cut into small pieces
1 red bell pepper, diced
Instructions
Preheat oven to 220°C.
On a large rimmed baking sheet, toss the potatoes with ½ the olive oil, garlic, rosemary, thyme and ½ the salt. Cover with foil.
Bake for 20 minutes.
Mix the red pepper and asparagus with remaining oil and salt. Add to baking sheet, cover, and continue cooking 15 minutes,
Remove foil, and continue cooking for 10 minutes or until potatoes brown.
Season with pepper and serve (can be served hot or cold).
Nutritional information, including Phe counts, are estimated using the Metabolic Pro database created and maintained by Genetic Metabolic Dietitians International (GMDI).
Always consult your dietitian before making changes to your diet.